CS:GO skins seem to be very popular and desired by many, even though they do not give you any benefits or bonuses. Why?
The answer is simple. They make the game more fun, after all, who doesn't like to look at and use items created by real 'skin' artists :)
A lot of players who use skins feel more confident in the game. You could say that they feel like professional players who have bundles of skins.
Almost every player would love to have skins in their inventory, but unfortunately, skins have their costs. In that case, the question arises…
How to get CS:GO skins for free?
Here, we come to the rescue :)
Getting skins by playing CS:GO
The first and easiest method of getting skins for free is by actively playing CS:GO. During competitive matchmaking, as well as other modes in CS:GO we can receive an item or case. Cases from new operations reach enormous prices straight after they are introduced. Selling this type of case for a few euros/dollars would not be a shock. Unfortunately, we do not receive items from the game often, however, our inventory could look pleasing with just a little luck.
Getting skins by watching CS:GO tournaments
The second way of receiving free skins is by watching CS:GO tournaments i.e. CS:GO Major Championships. While watching, we can receive a souvenir package, although it is required that we link our steam account with our twitch account while watching the stream. It is a very cool solution, and many players use it even the ones who already have skins. The most expensive case that we can receive while watching is the Cobblestone Souvenir Package, from which we can receive skins such as the AWP | Dragon Lore, which is worth a few thousand euros/dollars :)
Playing CS:GO in exchange for rewards
Method number three is using sites that offer coins for playing 1vs1, 2vs2, 3vs3, or 5vs5. Additionally, they organize tournaments where the reward is also coins, which we can use to buy skins which can then be sent to our steam inventory.
One of those sites is PvPRO.com
Free reference codes for CS:GO websites
Method number four involves using free reference codes and opening daily bonuses on different gambling websites. Nearly every site offers free funds to begin with when using a reference code, as well as daily bonuses for users. Unfortunately, and fortunately, there are a lot of these websites so it is better to use sites that gather all roulettes, sites with cases, jackpots. in one place so that the user can instantly collect free funds from codes.
One of these websites is for example csgosite.org
Winning skins in giveaways
The last, and the most interesting way to get free skins is taking part in giveaways which are organized on Facebook :)
Giveaways are organized nearly everyday, and the rewards are often worth a few hundred euros/dollars!
I'm going to tell you a funny story. Some time ago, we organised a giveaway where you had to create a fanart to participate and the rewards were skins worth 50-200 PLN! for 10 people, but over 400 people took part. Therefore, we gave the people who placed 11-50 a 15PLN code for casedrop.eu. Every participant also received a 5PLN code for the site :) so everyone was rewarded. However, this is where the magic begins :D
One user was particularly happy when he received the 5PLN code.

- OMG! 5.00PLN! You are really one of a kind
After this, he opened a case straight away. It was this case: https://casedrop.eu/c/zloty-strzal
And sent us this message :)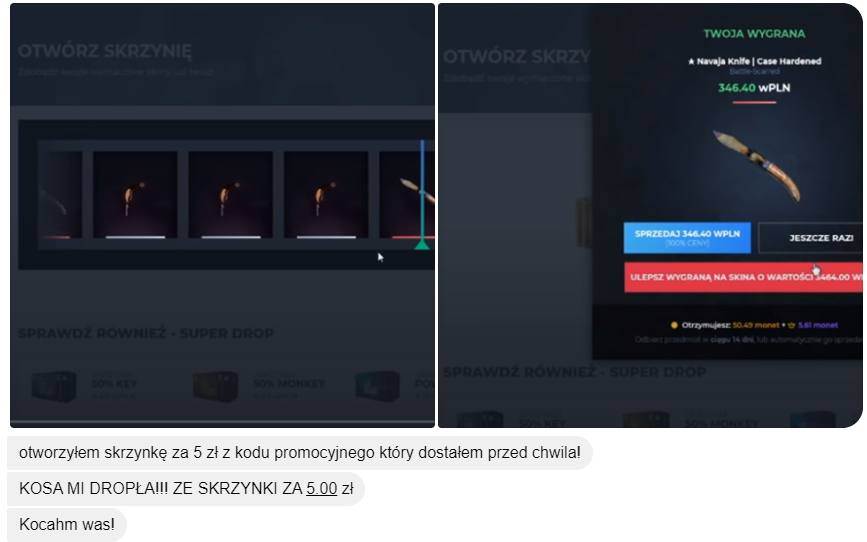 I opened a case worth 5PLN from the promotion code I received a moment ago!
I GOT A KNIFE! FROM A CASE WORTH 5PLN
I love you!
YES! He got a knife worth 350PLN from a case for 5PLN.
Even though he wasn't one of the 10 winners where the main price was a skin worth 200PLN, he received a consolation prize worth nearly two times the amount :D